Here is a 30,000 foot view of how to delegate your ADA to a Cardano stake pool. Be sure to check out the bonus section at the bottom for important information about a future rewards program. Once you've delegated, be sure to tag PREEB on social media to say hello!
Step 1
You need a wallet that supports delegating. Eternl and Typhon are both great wallets. You might also like a hardware wallet, like Ledger.
Once you choose a wallet, you'll have a seed phrase. Never give that to anyone unless you want them to have all of your money. Your seed phrase is the only way to access your funds. Keep it secret, keep it safe.
You also need some ADA. Use your favorite exchange for that, like Binance.
Step 2
Find your wallet's staking area and type in PREEB, and click "Delegate." This will be different based on your wallet, but here's an example from Eternl.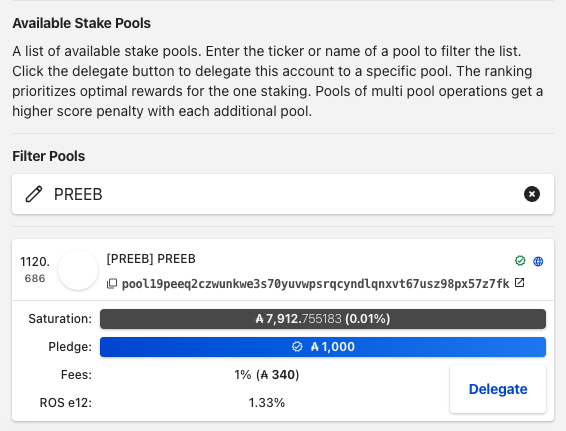 Step 3
Finally, enter your password if required by your wallet, and sign the transaction. It's that simple! Now sit back and wait for your rewards to roll in.
Bonus
Though not rolled out yet, PREEB is working on delegator rewards. The longer you stay with PREEB, and the more you stake will make you eligible for better rewards. Start staking with PREEB now to get ahead for when the rewards rollout. Rewards will be something in the form of extra ADA and/or NFTs based on your length of stay and stake amount. Be sure to follow PREEB on Instagram and Twitter so you don't miss any of the announcements! Also, tag PREEB when you've finished delegating to say hello! Delegators like yourself are why PREEB exists, and wants to get to know you and your crypto needs.